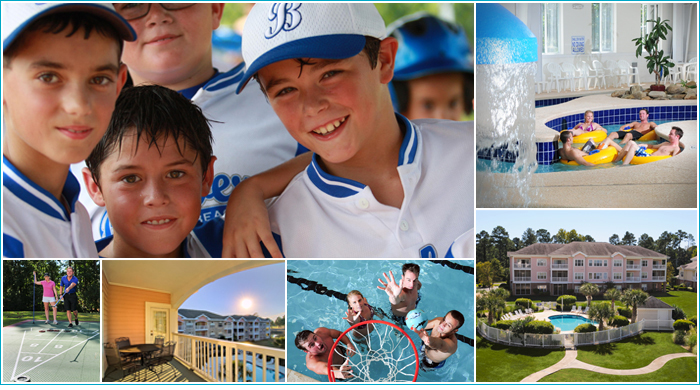 A stay at Myrtlewood Villas luxury condominiums allows you and your family an opportunity to combine a great vacation along with your Ripken Experience. Our Resort is located mere minutes from the ballparks of The Ripken Experience. Nestled between the rolling fairways of Myrtlewood Golf Club, the villas are near all the excitement Myrtle Beach has to offer, including Myrtle Waves Waterpark, Broadway at the Beach, Broadway Grand Prix and a variety of the area's most popular attractions. Great shopping and dining options are also within a short drive from our Resort.
"Myrtlewood Villas was wonderful. What a great place to relax and recharge your batteries. It was comfortable and made you feel like you had a home to go to after the ball games."
- Shane F. Littleton, CO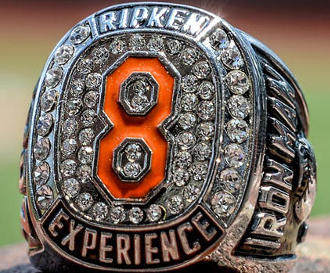 Amenities Included
Our Amenities Center, featuring indoor pool, lazy river, Jacuzzi, kiddie pool with splash umbrellas and fitness center has been a GRAND SLAM addition for the overall Ripken Family and Team experience. New Pavilions have also been added next to the indoor pool with grilling areas, perfect for team gatherings and cookouts. For unbeatable team accommodations, book your Ripken Experience trip with Myrtlewood Villas!
Ripken Family Night Out
Each family that stays 5 nights or longer from June 1 - Sept. 1, 2015 will receive a family package at Ultimate California Game Zone consisting of the following:
1 Large 1-Topping Pizza
1 Family Salad
Refillable Pitcher of Soft Drinks
Four - $10 Ultimate Game Cards
Add Hot Breakfast
Now you can add Hot Breakfast for just $6 / person / day!
2015 Ripken Family Rates
11/20 - 12/03
$79.00
$100.00
$129.00
12/04 - 12/17
$64.00
$86.00
$115.00
12/18 - 12/31
$79.00
$100.00
$129.00
2016 Ripken Family Rates
01/01 - 01/13
$67.00
$90.00
$120.00
01/14 - 02/10
$67.00
$90.00
$120.00
02/11 - 02/17
$82.00
$105.00
$136.00
02/18 - 03/02
$67.00
$90.00
$120.00
03/03 - 03/16
$75.00
$98.00
$128.00
03/17 - 04/03
$82.00
$105.00
$136.00
04/04 - 04/24
$75.00
$98.00
$128.00
04/25 - 05/15
$112.00
$136.00
$167.00
05/27 - 06/01
$180.00
$203.00
$233.00
06/02 - 06/08
$112.00
$136.00
$167.00
06/09 - 06/28
$151.00
$174.00
$204.00
06/29 - 07/13
$180.00
$203.00
$233.00
07/14 - 08/04
$151.00
$174.00
$204.00
08/05 - 09/07
$112.00
$136.00
$167.00
09/08 - 09/21
$112.00
$136.00
$167.00
09/22 - 10/23
$75.00
$98.00
$128.00
10/24 - 11/18
$82.00
$105.00
$136.00
11/19 - 11/27
$67.00
$90.00
$120.00
11/28 - 12/31
$82.00
$105.00
$136.00